Aeroexpress and Stadler Sign Contract for Delivery of Double-Deck Trains
May 28, 2013
28 May 2013, Moscow – Russia's Aeroexpress and the Swiss railway equipment manufacturer Stadler Rail Group have publicly signed a contract for the delivery of double-deck rolling stock in the Moscow City Administration.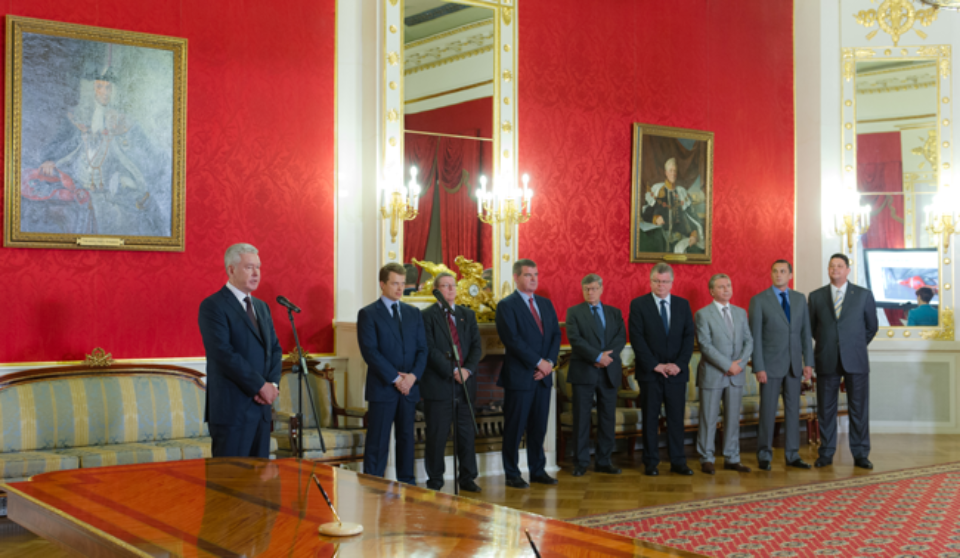 The contract, worth a total of EUR 685 million, was concluded in the presence of the following: Moscow Mayor Sergey Sobyanin; Deputy Mayor of Moscow and Head of the Transport and Road Infrastructure Department, Maxim Liksutov; Minister and the Head of the External Economic an International Relations Department of the Moscow City Administration, Sergey Cheremin; OAO RZhD's Vice-president for Passenger Transportation, Mikhail Akulov; Advisor and General Counsel of the Swiss Embassy in the Russian Federation, Hansjörg Mayer; and mass media representatives. The contract was signed by Aeroexpress CEO Alexey Krivoruchko on the company's behalf, and by Peter Spuhler, president and owner of the Stadler company.
Before the signing ceremony for the contract commenced, Moscow Mayor Sergey Sobyanin noted that the trains currently serving the routes between Moscow rail terminals and its airports are of insufficient capacity, and thus, new rolling stock will be put into operation on these routes.
"Aeroexpress services, which include transporting Moscow passengers to the capital's airports, have become one of the most popular means among other public transport modes. The project has proven to be developing successfully; this year will result in 158 million passengers being carried by Aeroexpress trains," Sobyanin commented during the signing ceremony.
The General Counsel of the Swiss Embassy in Moscow, H.-J. Mayer, mentioned that Stadler Bussnang AG manufactures high-technology products, which are in demand worldwide. The General Counsel also expressed hope that this contract will set an example for other Swiss companies that are about to enter the Russian market.
"Collaboration with Stadler aims to solve one of the most essential problems faced by Aeroexpress today, which is an increase in carrying capacity. Aeroexpress passenger traffic is increasing from one year to the next by almost 20%, and introducing new double-deck trains is a logical solution, allowing us to not only significantly enlarge our trains' seating capacity, but also provide our passengers with even greater comfort during their journey. The new double-deck Stadler trains, which should arrive in Russia as early as 2015, correspond to the highest international standards", commented Alexey Krivoruchko, CEO of Aeroexpress.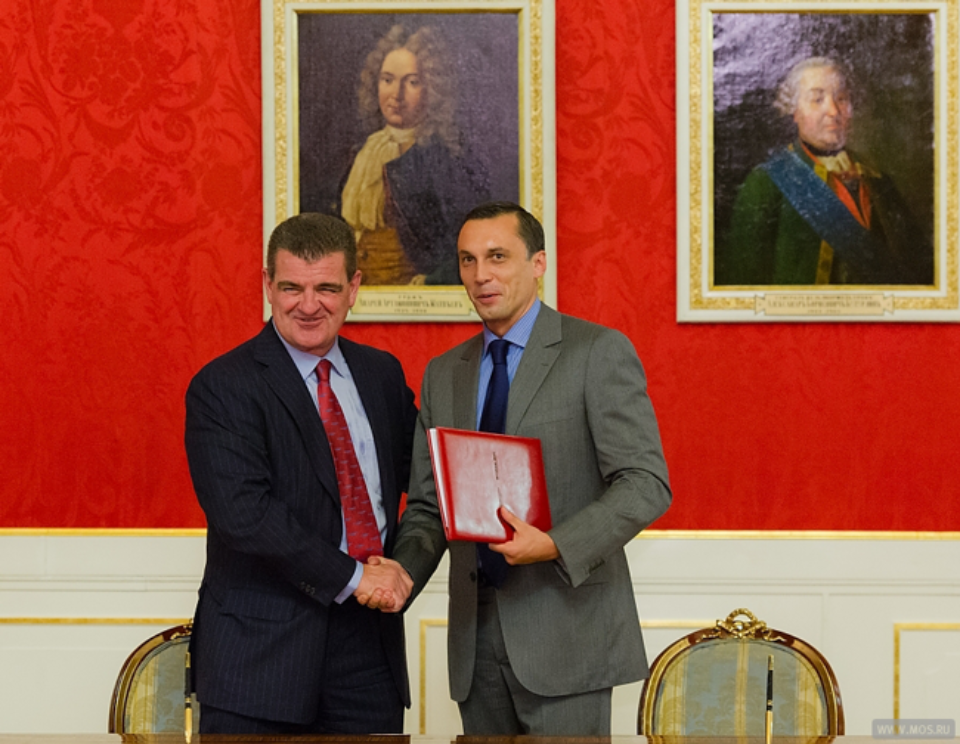 "The contract with Aeroexpress for the development and delivery of double-deck rolling stock has been one of the biggest contracts signed by Stadler to date in Russia. Aeroexpress' decision in favour of these high-speed trains is definitely a success for us and is unquestionable evidence of the fact that Stadler's products are in demand. Our trains have already proven themselves in many countries, such as Switzerland, Germany, Austria and Luxemburg, and we are very pleased that soon Russians will also be able to assess them at their true value," stated Peter Spuhler, President of Stadler Rail Group.
The official signing of the contract between the companies is yet another important step towards realising this project after Aeroexpress revealed the results of the tender, held in February 2012, for supplying 172 double-deck railcars. By May 2016, the victorious Stadler shall deliver 118 railcars to Russia, according to a basic contract (16 4-railcar and 9 6-railcar train sets). Later on, a total of 54 railcars will be supplied to Russia according to an option.
These forthcoming Aeroexpress trains will be developed on the basis of the already well-known Swiss KISS trains. The railcars will be produced of light aluminium, which enables lowering their weight as compared to railcars traditionally made of steel, thereby reducing operating costs. The new trains will be able to achieve a velocity of 160 km/h.
About Stadler
The Stadler Rail Group is the largest Swiss manufacturer of railroad equipment. The company operates several plants, located in Switzerland, Germany, Poland, Hungary, the Czech Republic, Italy, and Algeria. Stadler focuses mainly on the regional and commuter services segment, light rail transit, trams, and also the production of rack railway vehicles.
Stadler Rail Group has extensive manufacturing capabilities, ranging from the development of transport means tailored to customers' specific needs to small- and medium-scale production and the re-equipment of existing rolling stock.
The most popular among Stadler products are low-floor electric and Diesel engine FLIRT trains (890 units sold), low-floor articulated GTW railcars (562 units sold), RSI Regio Shuttle railway vehicles (497 units sold), and double-deck trains (170 units sold).
Gradually extending the sphere of activities over several years, the company has widened its range with electric equipment and railway vehicles, thanks to which Stadler now has the opportunity to offer complex transport custom-developed concepts. Moreover, all stage of production, beginning with railcar construction and ending with the final assembly of the rolling stock, is carried out in a uniform manner and under centralised control