People
Alina Bisembaeva
Chief Executive Officer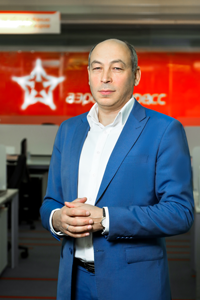 Milhail Kovalsky
Chief Commercial Officer of Aeroexpress
In 1991, Mikhail graduated from the Aeromechanics Faculty of the Tsiolkovsky Moscow Aviation Technological Institute.
In 2014, he obtained his second higher education diploma from the State Management University, majoring at Operating Management.
Between 1998 and 2007, Mikhail held various jobs at Domodedovo Airport.
From 2007 to 2009, he worked at the Bazovy Element company.
Between 2009 and 2012, he held various managerial positions at Aeroexpress.
From 2012 to 2017, Mikhail worked at the Moscow-Tver Suburban Passenger Company.
Starting from July 2017, he has been working at Aeroexpress.
ROMAN GUDA
Chief Financial Officer
He graduated with honours from the Ukhta State Technical University, where he majored in Finance and Credit.
From 2002 to 2007, he worked as an Economist at Ukhtabank OJSC, then as Deputy General Director for Economic and Financial Affairs at the Stroymontazhservis company in Ukhta.
In 2007-2009, he served as CFO at MTL-Garant LLC in Moscow, then at the Volf-Remizov Meat House in Moscow.
In 2008, he graduated from the Moscow International Higher Business School MIRBIS, having completed his MBA programme in Financial Management.
He has been working at Aeroexpress since 2009.
ANDREY KOSHKIN
Chief Corporate and Legal Officer
He graduated with honours from MGIMO (Moscow State International Relations Institute) with a degree in International Economics. He worked in the Ministry of Foreign Trade. He took part in an internship and has undergone training in Austria and Germany many times. He was the Head of an Austrian company's representation office in Russia and a number of other major Russian manufacturing and commercial companies. He speaks German and English.
He has been working for Aeroexpress since 2008.
IVAN FIRSOV
Chief Security Officer
Has higher legal education. In 1986, he graduated from the MIA (Ministry of Internal Affairs) Academy of the USSR. For more than 30 years, he has held various posts in the Moscow MIA Railways Department. He also headed the Department for combating organized crime and terrorist crimes on the railways. He is an honorary member of the MIA and now is a retired police colonel.
He has been working for Aeroexpress since 2007.
Oleg Kuzovov
Deputy Director General for Traffic Safety – Chief Supervisor
Graduated from the Moscow State University of Railway Engineering (MIIT) with a degree in Railway Engineering and Electromechanics.
In 2008, Oleg completed the 'Functional Strategy for Ensuring Safety and Reliability of Rail Transport' programme at MIIT.
Early in his career, Oleg worked as a repairman, an assistant driver, a driver, and a driving instructor for electric trains.
From 2000 to 2003, he worked at the Moscow Railway as Chief Supervisor, Deputy Chief Supervisor on Traffic Safety of the Moscow Railway Suburban Service, Deputy Manager at the Domodedovo Locomotive Depot, as well as Head of the Electric Train Operation Department of the Moscow Railway Suburban Service. He also worked as Manager of the Krasnodar Locomotive Depot on the North-Caucasian railway.
In December 2003, when Russian Railways was established, Oleg was appointed Chief Traffic Safety Supervisor of the Traffic Safety Department.
He has been working at Aeroexpress since 2011.
Yury Chmirenko
Chief Business Development Officer
In 1994, Yury graduated from the Industrial and Civil Construction Faculty at the Pushkin Higher Military Engineering and Construction College in the Leningrad Region, majoring as a construction engineer.
In 2009, he took the MBO (Management by Objetives) course at VTB 24 and underwent training under the Construction Monitoring programme at the Penza State University of Architecture and Construction.
In 2013-2014, he took the course Project Management Compliant with RMVOK Standards at the Project Practice Company and, in 2015, finished the Industry-Peculiar Implementation of Regional Investment Projects programme at K-2.
At the beginning of his career, Yury worked as an engineer, senior engineer, and site head.
From 2002 to 2004, he held the position of Deputy Construction Director and Head of the Design and Survey Department at the Masterdent company. Over twelve construction projects were completed under his supervision in Moscow and the Moscow Region.
From 2004 to 2009, he served as Department Head for the Construction of Regional Network and Facilities for Vneshtorgbank, VTB Bank, Bank of Moscow, and VTB 24 in Moscow and the Moscow Region.
Between 2010 and 2016, he worked as a Chief Officer for Prospective and Strategic Projects of the technical customer and general contractor of Transmashholding.
From 2016 to 2017, Yury held the position of Deputy Director for Capital Constructions at Smartstroy. He implemented three major projects with the assistance of the Moscow Region Ministry of Construction.
Since October 2017, he has been working with Aeroexpress.