Young Army Cadets Visit Aeroexpress Depot
Feb 15, 2019
Members of the Young Army Association visited the Aeroexpress depot to see how, in real time, trains are maintained and repaired on a daily basis to ensure travel safety and comfort.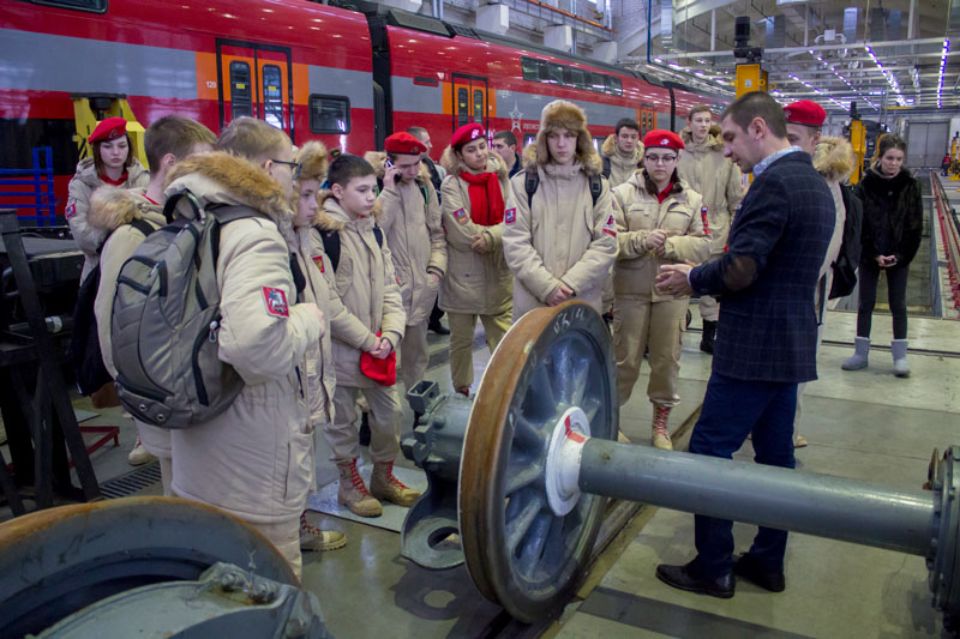 During the tour, the cadets had the opportunity to explore the trains, including the modern double-decker Aeroexpress trains, learned how locomotive crews are trained, and examined the driver's cabin. They saw how various machines operate, including jacks to lift trains, benches to check automatic braking performance, the machine for turning wheel sets, the wheel set surface laser meter and more.
"It is very important to give youngsters the opportunity to personally see the 'behind the scenes' work of the professions they may consider in the future. Therefore, Aeroexpress regularly provides instructional tours around the company's infrastructure facilities for the young people who intend to connect their careers with railway transport. We were pleased to invite members of the All-Russian Young Army Association. We also hope to continue our cooperation in the future," said Alina Bisembaeva, CEO of Aeroexpress.
According to Roman Romanenko, Head of the Young Army headquarters, the hero of Russia and pilot cosmonaut, this was a real career guidance experience; it was presented in a very informative and focused way.
"One day with Aeroexpress gave our cadets the chance to learn about some of the peculiarities of working on the railway. They saw how trains are maintained and repaired, witnessed how they are prepared before departures, and learned about new technologies, as well as the employment prospects and incentives the company offers. They were able to speak with the company's employees face-to-face. It is essential to guide youth on their path in choosing a future career and to do so, both in theoretical and practical terms," said Mr Romanenko.
Young Army Association pays special attention to developing and broadening youth's engineering and technical knowledge and carries out respective educational activities. Aeroexpress is also committed to guiding young people through the process of choosing their future careers and encourages interest in railway transport among the younger generation. The company regularly arranges tours to the depot and the Unified Dispatching Centre, as well as offers instructional trips aboard Aeroexpress trains.