Moscow Visitors to Save on Aeroexpress Tickets
Apr 12, 2018
Aeroexpress has introduced special fares for Moscow guests visiting the capital from all regions of Russia.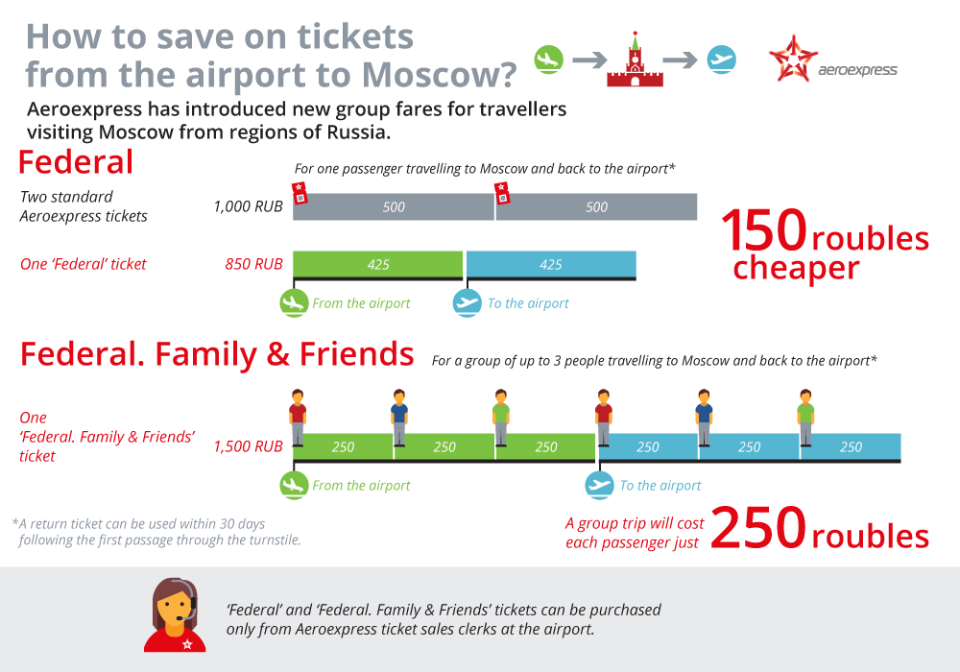 With these fares, trips between the Sheremetyevo, Domodedovo, and Vnukovo airports to the Moscow centre and back will be offered at a more advantageous price. This offer is especially relevant for those who are transiting through Moscow.
A one-way single 'Federal' ticket would thus cost 425 roubles, which is 15% less than the price of a standard ticket purchased from a ticket office or a ticket vending machine.
The 'Federal. Family & Friends' fare is designed for a group of up to three people. A one-way journey will now cost each passenger in the group just 250 roubles.
The new fares also include round-trip options. A return ticket can be used within 30 days following the first passage through the turnstile at the airport.
Tickets for special fares can be bought from the company's representatives at the baggage claim of Moscow airports, starting from 12 April 2018.
"We continuously analyse passenger flow through the Moscow air cluster. According to 2017 results, the majority of such flow can be accounted for by domestic flights, making up over 50%. Some people come to Moscow to go sightseeing, others are on business trips and, for some passengers, this is just a transit point in a larger travel route. What they have in common is that all these travellers will be returning home soon. Especially for them, we have designed fares that include trips in two directions – from the airport and back again. They are more beneficial and the opportunity to purchase tickets from ticket sales clerks allows passengers to significantly save time," comments Aeroexpress COO Valery Fyodorov.
Aeroexpress is one of the fastest and most convenient ways to reach the centre of Moscow without any traffic jams. Trains run every 30 minutes along the routes between Domodedovo Airport and Paveletsky Rail Terminal, Sheremetyevo Airport and Belorussky Rail Terminal, as well as Vnukovo Airport and Kievsky Rail Terminal. A one-way trip takes on average 35–45 minutes.