Aeroexpress Launches New Advertising Campaign 'Try it! Enjoy It!'
Jul 15, 2014
15.07.2014 – Moscow. Alongside with continuous improvement of travel quality and comfort, Aeroexpress offers its passengers new products and services and continues to communicate with its audience using a language of bright images and out-of-the-box advertising solutions. The company is starting a new large-scale advertising campaign soon. As part of this, Aeroexpress is launching the promotional website tryenjoy.aeroexpress.ru. The campaign strives to break down stereotypes and doubts, which stop people from accepting more convenient, beneficial, and rational things. In a sentimental and quite ironical manner, it shows the advantages of Aeroexpress trains that have already become an integral part of trips for many passengers. There nevertheless are passengers who still cannot see and recognize the obvious benefit. The face of this campaign is Russian actress Evelina Bledans.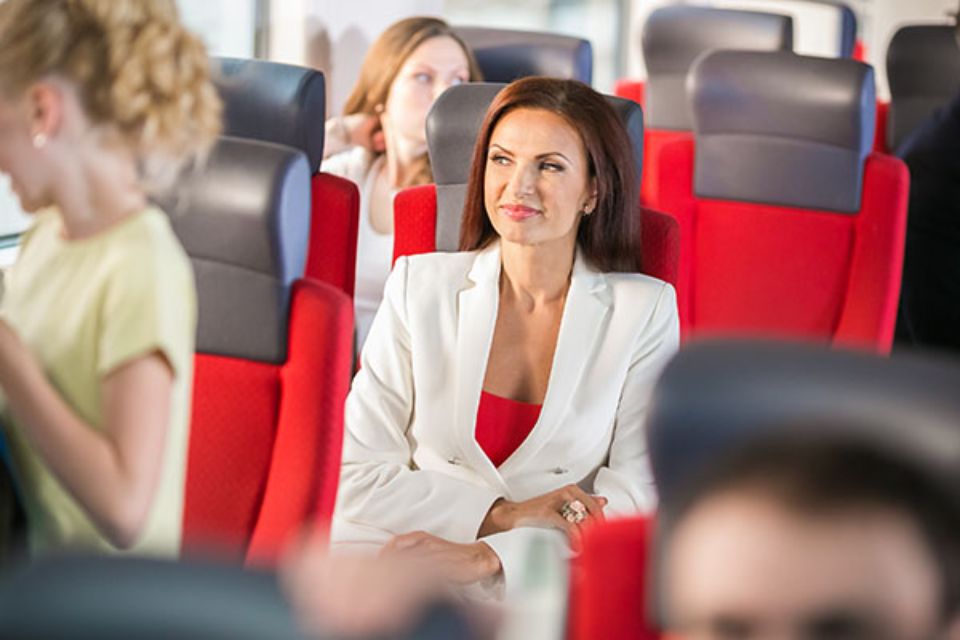 The Aeroexpress company has already achieved high recognition for its unusual and memorable advertising concepts. The 'Honest Taxi Drivers Recommend Aeroexpress' campaign, created by Alexandr Semin from the WeAre73 production studio and rolled out in 2012–2013, is one of such creative moments, sparking vivid interest in the company and its services and enabling Aeroexpress to strengthen its brand position on the market.
The new advertising campaign, under the 'Try It! Enjoy It!' slogan, which is also developed by Alexander Semin, allows customers to look at their old habits and their fear of anything new from the outside, to compare them with familiar situations from everyday life, and to decide on yet unknown, but obviously more convenient and beneficial things - Aeroexpress' broad options.
Alexander Semin comments:
"I remember my first experience with online shopping. To spend money without touching and feeling something, to enter a card number... What if they cheat and sell me a pig in a bag instead?... And only after some time, we find out that this is better, more convenient, beneficial, and faster. Yet, at the very beginning, we are not very different than a pensioner, who decides to learn how Facebook works. This is just the same thing happening with Aeroexpress products. Passengers still stand in queues at ticket offices, although they can easily buy tickets right aboard trains via the mobile app. We can look at the situation globally. We have been travelling to the airport by car for so many years. We have been sitting in traffic, envying some Swiss airport, where nobody will ever think to catch a taxi as everyone travels there by train. We also have trains to any airport from the Moscow centre, but old habits and doubts keep us from choosing obvious advantages. Aeroexpress understands this and is offering a way to overcome one's natural fear of technologies intended to improve our life.
Our campaign will include advertisements on taxi cars, inflight magazines, movies shown in business centres, radio spots, banners and contextual advertising, as well as an individual promotional website, intended to become a campaign centre, in addition to other advertising formats.
Aeroexpress' advertisements have already been awarded several prestigious prizes. In 2012, the Adultery video blew the advertising community away. It came in third among the best videos at the 13th Kiev International Advertising Festival (2012) and eighth among the best videos of Russia (2012). It also won the mass media prize in the TV Advertising nomination at the Red Apple Advertising Festival and was the winner in the Best Viral Video at Digital Communications AWARDS–2013. It is worth mentioning that the video about an honest taxi driver was recognised as the best advertising video in 2013 by readers and the editorial board of the major Russian advertising portal AdMe.ru. Moreover, the 'Honest Taxi Drivers Recommend Aeroexpress. Lie Detector" video came in second in the 'Internet Video' category at the White Square International Festival of Marketing and Advertising held in Moscow last year.