Aeroexpress and Visa Present a Unique Facility to Pay for Aeroexpress Services at Turnstiles
Aug 15, 2013
15 August 2013, Moscow. – With the help of the Visa payment system, Aeroexpress has implemented the very first innovative project in Russia, called Pay@Gate – a facility to pay fares with bank cards directly at turnstiles using contactless technology.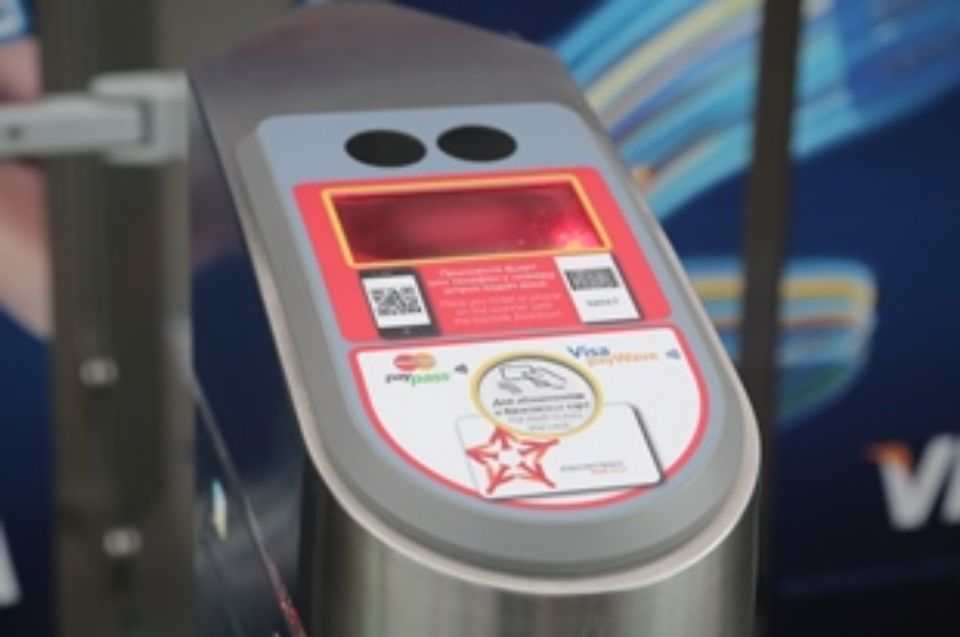 As of today, the new feature will be available at all Moscow airports, from which Aeroexpress trains run to the city centre – i.e. Sheremetyevo, Domodedovo and Vnukovo airports. The new turnstiles installed on platforms are equipped with universal card readers and are compatible with both conventional tickets of all types and contactless bank cards affiliated with international payment systems, including Visa payWave. The use of bank cards is now possible thanks to the innovative technology developed by specialists from Visa and the company's technological partner Breeze Technologies. TransCreditBank (VTB Group) is the acquiring bank.
The service is pretty simple to use: to pay the fare, the passenger only needs to place a contactless bank card on the reader at the turnstile. To successfully complete the payment procedure, you only need to have enough funds on your card to pay for the ticket. The Pay@Gate service is available for trips in standard class railcars.
"We are extremely pleased to once again claim pioneers, introducing the technology that is yet unique to our country. Holders of contactless Visa payWave and MasterCard PayPass cards no longer have to waste their time to purchase tickets – now they will always have their ticket at hand," commented Rustam Akiniazov, Chief Commercial Officer of Aeroexpress. "As always, we have tried to provide our passengers with a fresh and modern service that will not only offer additional convenience when paying for Aeroexpress services, but that we also hope will set an example for other Russian transport companies to follow."
"The project for introducing contactless payment via Visa payWave cards at Aeroexpress turnstiles is of great importance for the payment industry. This is the first time that such an industrial launch takes place in Russia and the CIS, and we hope that Visa cardholders will appreciate the convenience and speed of payment via their credit card directly at the turnstile," said Andrei Vylegzhanin, Head of Business Development, Visa Inc. Russia. "We expect that the success of our joint project will help to ensure that other transport operators in Russia and the CIS will also be interested in implementing projects to enable the use of bank cards to pay fares. It should be recalled that this year, as announced by Moscow's Department of Transport and Road Infrastructure Development, turnstiles will be installed in 10 stations of the Moscow metro in order to accept payment with Visa payWave cards [1]."
"Today, the service for paying fares at the turnstile, implemented by Aeroexpress, is one of the most advanced solutions in terms of paying for transit: passengers do not have to worry about buying tickets in advance. You can pay the fare directly at the turnstile using your bank card, quickly and safely. As the developer of this service, we are sure that this solution will be in demand, both among passengers and those transport companies interested in providing modern payment services to their customers," noted Pavel Vyotosh, General Director of Breeze Technologies.
"TransCreditBank is constantly improving the quality of service and is introducing the most advanced payment technologies in the sphere of rail transport. As far as the contactless payment is concerned, such features have already been implemented in ticket offices at Moscow rail terminals. The integrated service for paying fares directly at Aeroexpress turnstiles will show all customers the convenience and safety of using contactless bank cards," stated Alexey Kirichek, Director of Retail Business Support, TransCreditBank.
About Visa
Visa is a global payments technology company that connects consumers, businesses, financial institutions and governments in more than 200 countries and territories to fast, secure and reliable digital currency. Underpinning digital currency is one of the world's most advanced processing networks—VisaNet—that is capable of handling more than 30,000 transaction messages a second, with fraud protection for consumers and guaranteed payment for merchants. Visa is not a bank, and does not issue cards, extend credit or set rates and fees for consumers. Visa's innovations, however, enable its financial institution customers to offer consumers more choices: Pay now with debit, ahead of time with prepaid or later with credit products. For more information, visit www.visa.com.ru [2]
About Breeze Technologies
Breeze Technologies LLC is a portfolio company of VTB Capital's venture business, which develops mobile services and e-commerce on the basis of innovative contactless technology, including NFC technology. The company provides a wide range of IT and payment services. Its main activities involve the creation and implementation of fare collection systems for public transport.
About TransCreditBank
JSC TransCreditBank was established in November 1992. The bank provides clients with a full range of banking services. TransCreditBank's extensive network consists of 262 offices in 184 cities and communities across Russia. TransCreditBank's major shareholder is VTB Bank (99.6% voting shares); VTB24 holds 0.0726% voting shares, and other legal entities and individuals hold the remaining 0.3274% shares. The bank has been assigned the following long-term credit rating: Moody's (Baa3/Prime-3, outlook: stable), and Standard & Poor's (BBB/A-2, outlook: stable). The bank's total assets amounted to RUB 416.7 billion as of 1Q2013, according to IFRS accounts. The loan portfolio was RUB 300.0 billion (less provisions for impairment); customer accounts totalled RUB 259.4 billion, while the capital base amounted to RUB 45.8 billion with TransCreditBank's net profit totalling RUB 4.1 billion as of 1Q2013.
[1] http://dt.mos.ru/presscenter/news/depnews/682259/
[2] The Visa International Service Association Company (USA) provides banks with the opportunity to issue Visa payment cards, and to use this product and/or provide this service, among others, in accordance with applicable law. The issuing banks have the right to impose restrictions on products, services, and their use on the basis of applicable law.