Gifts to Aeroexpress Younger Passengers on International Children's Day
May 30, 2019
Aeroexpress and Korablik children's chain store have prepared presents for young travellers on International Children's Day.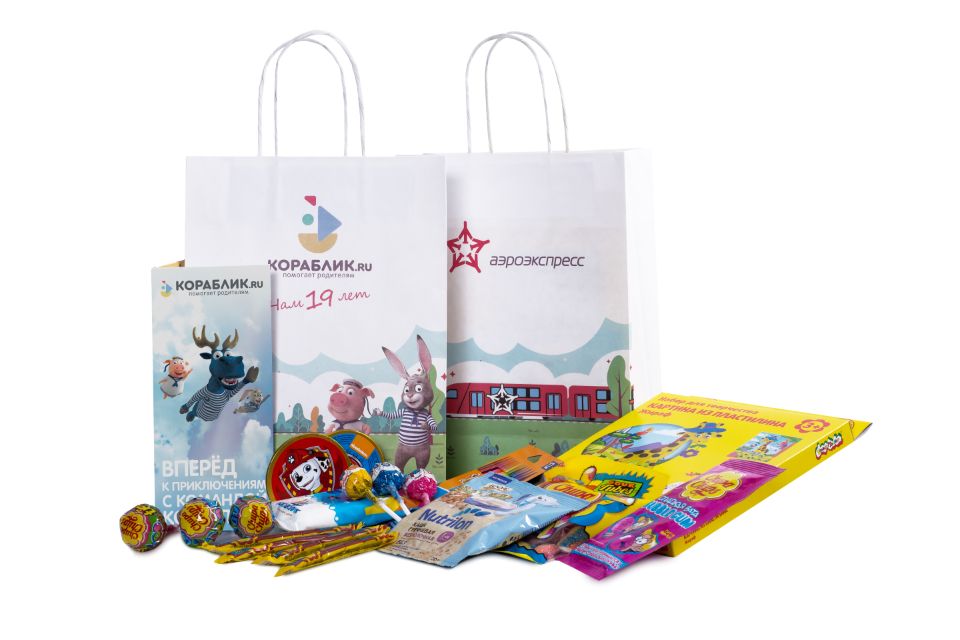 On June 1, Aeroexpress employees will present kids with gift bags containing colouring books, crafts sets, sweets, and many other goodies at the company's terminals. 600 gift sets have been prepared.
At Sheremetyevo Airport, at the Belorussky and Paveletsky Rail Terminals, the presents will be distributed at the info desks. At the Kievsky Rail Terminal, at Domodedovo and Vnukovo Airports the gifts will be available at shift attendants'. Ticket officers will help and forward passengers with kids to the gifts issuing points.
"We are pleased to wish all passengers a happy International Children's Day. May every child be surrounded with attention, care, and warmth! On this day, together with our partners, we have prepared gifts for the youngest passengers and we hope this will add joy and smiles to their trips," said Alina Bisembaeva, CEO of Aeroexpress.
"International Children's Day is one of the most important days for us. We have always been striving to make our young visitors a little bit happier and to give their parents the most valuable present — time spent with their kids. Korablik is sending its best wishes on this kind, summer holiday and is glad to present kids with all the essentials they will need for an exciting journey," added Tatiana Demidova, Marketing Director at Korablik children's chain store.
Kids aged five and under travel by Aeroexpress for free. Young travellers aged five to seven can take advantage of the child's fare, with one ticket costing 130 roubles. Child's ticket is issued at the ticket office at the place of departure on the date of travel and in presence of a child. Moreover, passengers travelling with kids can use a free Personal Assistant service, which implies that company specialists will meet them at the airport and provide assistance in purchasing tickets ahead of the queue and handling their baggage on board the train.