Aeroexpress Informs of Changes in Departure and Arrival Tracks at Belorussky Rail Terminal
May 17, 2019
Aeroexpress has informed of the temporary track changes on Sheremetyevo route for several train services departing and arriving from/at Belorussky Rail Terminal on 17-20 May, due to the planned engineering works on the railway.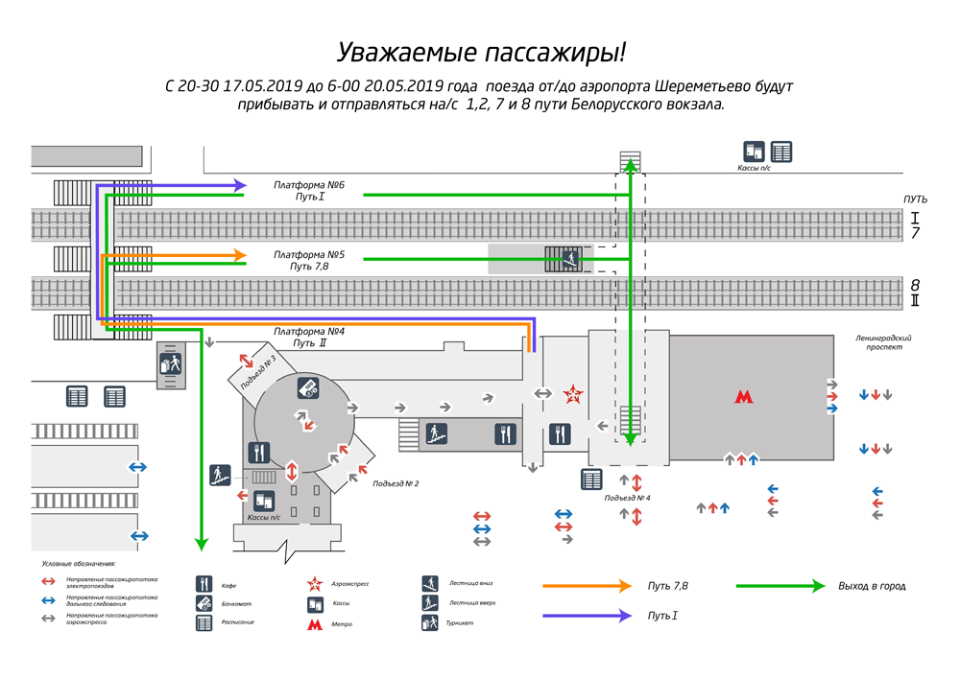 Between 20:30 on 17 May and 06:00 on 20 May, several Aeroexpress trains will depart from and arrive at tracks 1, 7 and 8 at Belorussky Rail Terminal. For passengers' convenience, it is advisable therefore to use the underground passage located between tracks 7 and 8.
We kindly recommend that passengers review the timetable before their journey and allow extra time to arrive at the Aeroexpress terminal.
All Aeroexpress timetable updates are available online at www.aeroexpress.ru and in the mobile app (Timetable section). Enquiries can also be directed to the hotline at +7 800 700 3377 (for calls from Russia's regions and mobile phones) or +7 495 663 8410 (for calls from Moscow) and company attendants at the terminals.
Aeroexpress extends its apologies for any inconvenience caused.