Aeroexpress Obtains ISO 27001:2005 Certificate – International Standard on Information Technology
Jun 25, 2014
24.06.2014. – Moscow. Aeroexpress has obtained an ISO 27001:2005 certificate, becoming the first transport company in Russia to achieve such a high evaluation from international experts for implementing IT technologies in business activities. It is worth noting that it has been confirmed that both the company's head office in Moscow and the St. Petersburg branch have achieved the requirements for this international standard for IT security.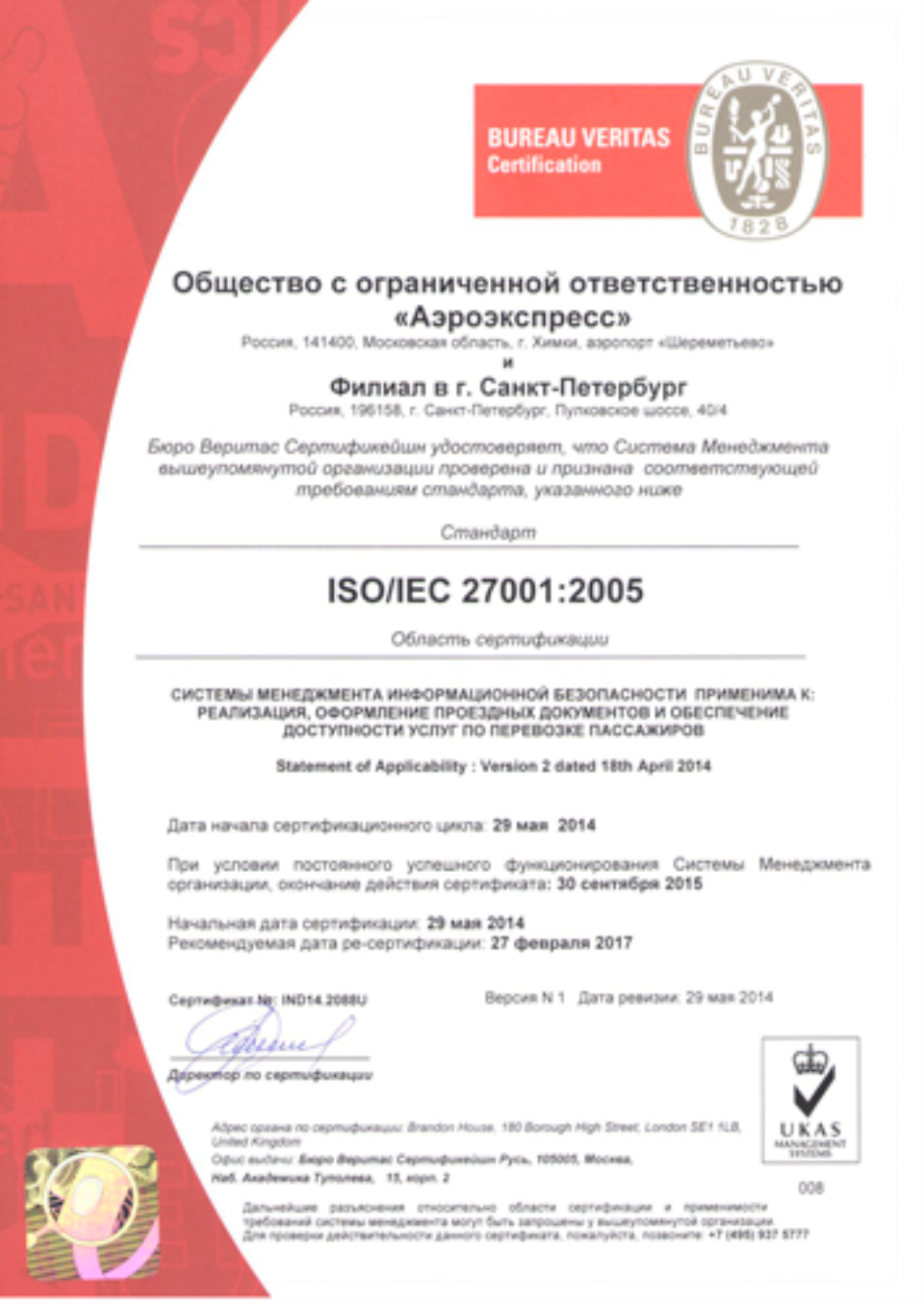 Aeroexpress has been continually improving on its experience, as well as the quality and reliability of offered transportation services, and this has already been confirmed by the number of prestigious awards and certificates received by the company throughout its period of operation. The ISO 27001:2005 certificate is yet another milestone in Aeroexpress' history. It is proof of the company's high status in the world's suburban and air rail industry and the level of seamless organization in terms of its internal business and technological processes.
The ISO/IEC 27001 standard includes guidelines from the authoritative international Organization for Economic Cooperation and Development (OECD), as well as the best practices for information security management, which were earlier compiled as BS 7799 by the British Standards Institution. The application of this standard allows companies to ensure a high level of reliability, which, in turn, makes it possible to achieve higher confidence in the company itself and its services on the part of consumers, as well as suppliers and partners.
The standard is focused on company management processes, taking into account the use of modern IT solutions, because most information is recorded, transmitted, processed, and stored in electronic form. It is noteworthy that the certificate is not a mandatory technical standard and serves as evidence of the company's voluntary certification of compliance with this international level of quality and safety of transportation services, as well as also presenting tangible proof of its technological infrastructure.
The Aeroexpress quality management system complies with the rail passenger transportation requirements set out in the ISO 9001:2000 international standard. The company was successfully certified for the first time in December 2009. In September 2012, the certificate was successfully extended and will be valid until 8 December 2015. Since 2009, Aeroexpress has been a member of the International Air Rail Organization (IARO) and a participant in the Billing and Settlement Plan for Airline Transport. Moreover, in 2013, Aeroexpress obtained the certificate for full compliance with the ISO 26000:2010 international standard "Guidance on social responsibility".