Stadler Paints First Double-Deck Aeroexpress Carbody
Mar 12, 2014
The Stadler Rail Group has successfully completed the next significant milestone in the production of Aeroexpress double-deck trains, having painted the first aluminium carbody produced and accepted by experts in early February. The new carbody wears corporate colours of the intermodal carrier; the Aeroexpress logo and other design elements will be added later. This carbody will serve as a motor carriage. The remaining intermediate and end carriages for the first train will be produced afterwards. The second stage of the project has been implemented according to the schedule preliminarily agreed upon by the parties.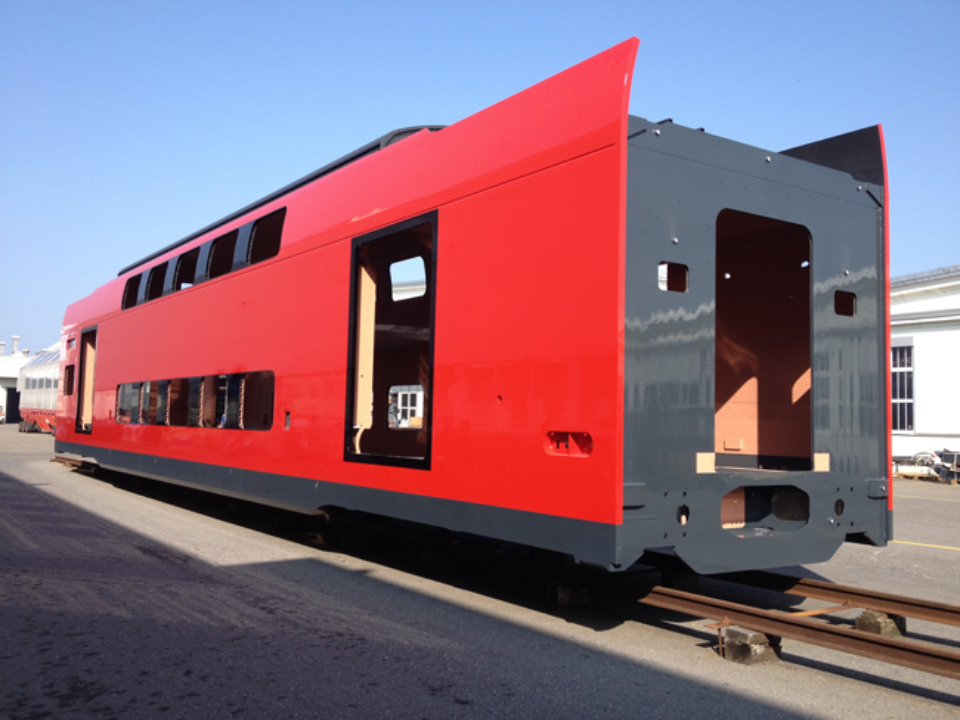 After all the welded car bodies have been painted, the train itself will be assembled. According to the production plan, the first three fleet units will be fully manufactured in Altenrhein (Switzerland), where the Stadler's plant for the production of double-deck trains is located. In a short time, Stadler expects to complete the construction of a new factory in Minsk (Belarus), which is going to join the production of Aeroexpress trains from the fourth vehicle by performing carbody welding, painting, assembling and commissioning. According to the current schedule, the first double-deck unit to Russia is expected for delivery in October this year, followed by a competent authority examination, including special testing for winter operational capabilities. The first train should be put into commercial operation in June 2015, while it is expected that the last (25th) train will be put in service in June 2016.
The Stadler Rail Group has become a strategic partner for Aeroexpress after participating and winning an international tender in Moscow in 2013.The parties signed a contract in May last year, which stipulates the supply of 25 double-deck KISS-type trains, 16 units of which will be four-car and nine will be six-car vehicles. The total contract and option value is EUR 685,000,000 (including VAT). The new double-deck fleet will allow a 30-40% increase in the transport capacity of Aeroexpress trains.