Aeroexpress Offers New Opportunities for Advertising
Dec 23, 2013
23.12.2013. – Moscow. Aeroexpress has successfully implemented new indoor advertising formats in all of its trains serving routes to Moscow airports: Vnukovo, Domodedovo, and Sheremetyevo.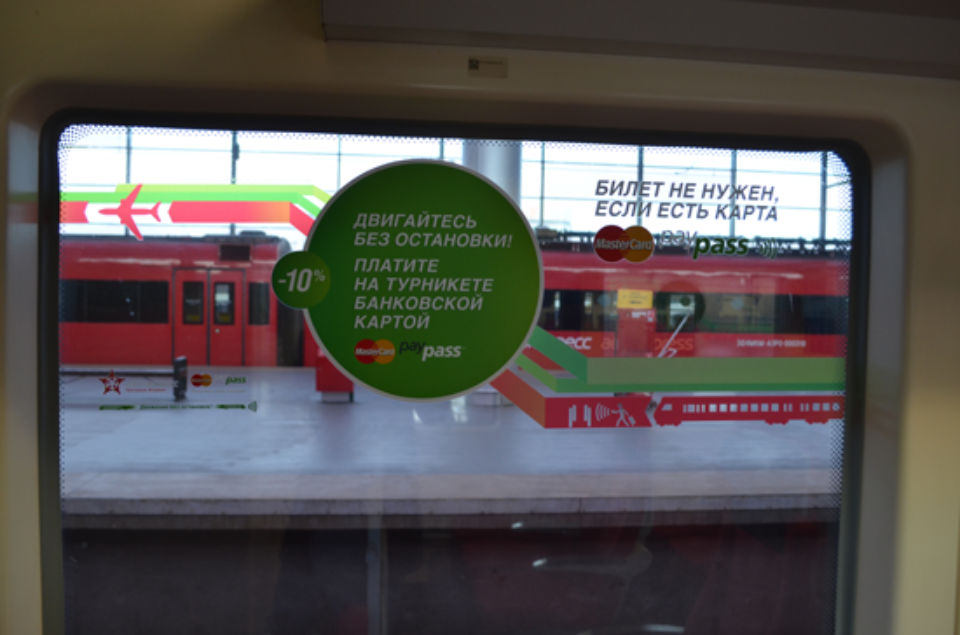 Aeroexpress trains have transported a total of 12.6 million people in Moscow in the first 9 months of 2013. The passenger traffic, i.e. the advertising audience, grew by more than 16.2% during this period.
2013 saw a number of colourful and memorable advertising projects involving Aeroexpress trains, such as advertising campaigns supported by the MasterCard global payment system and the Alpari international finance brand.
MasterCard's advertisements, based on innovative MasterCard PayPass® technology, enabling one-touch payments, have been affixed to windows inside Aeroexpress trains. The advertisements informed that, from now on, holders of MasterCard PayPass bank cards and other devices (wrist watch, stickers, cell phones) could save even more time by paying for an Aeroexpress fare directly at turnstiles upon entering or exiting platforms at Sheremetyevo, Domodedovo, or Vnukovo airports.
"As of this year, you can pay for Aeroexpress services using MasterCard PayPass technology, not only at the ticket offices and ticket vending machines, but also directly at the airports' turnstiles. In order to inform about the new possibility, we have chosen those advertising carriers located in immediate proximity to our potential consumers. The growing number of fare payment transactions using PayPass technology serves as genuine evidence of the great efficiency of our advertising campaign," commented Denis Filippov, Senior Business Development Manager at MasterCard.
"The advertising market has appraised Aeroexpress as an advantageous communication channel for a competent mainstream audience," said Rustam Akiniazov, Chief Commercial Officer at Aeroexpress "Aeroexpress passengers are mainly professionals with above-average income. The high quality of advertising exposure is also worth mentioning. On average, a passenger spends about 35-45 minutes in a comfortable carriage. As opposed to underground railway or city transport, our trains are less loaded. That is, passengers are more likely to notice advertisements there. Advertisers have various formats to choose from – advertising stickers, video commercials, or BTL promotions can all be applied in trains".
Using railcars' ceilings as a place for advertising is certainly one of the most outstanding examples of an indoor format. The Alpari company has become the first to collaborate on such a joint project. This advertising communication involved 3M's quality solution – self-adhesive graphic film 3M™ Scotchcal™ IJ25. "Our aim was to attract the attention of the audience at airports. Placing ads in Aeroexpress trains running along all Moscow routes made it possible to cover the bulk of this audience, while the unusual format and a creative concept drew people's attention to the poster itself. The project has proven to be extremely noticeable. You couldn't help but look at the large scale advertising carrier," noted Ildar Giniyatov, Head of the Advertising Department at Alpari.
Reference:
MasterCard (NYSE: MA) www.mastercard.com is a global payments and technology company. It operates the world's fastest payments processing network, connecting consumers, financial institutions, merchants, governments, and businesses in more than 210 countries and territories. MasterCard products and solutions make everyday commerce activities such as shopping, travelling, running a business, and managing finances easier, more secure and more efficient for everyone. Follow us on Twitter@mastercardnews, take part in discussions at The Heart of Commerce Blog, and sign up for our news
Alpari
Founded in 1998, the international Alpari brand is one of the leading names in providing services for operating on financial markets. The Alpari brand is represented in 22 countries across the globe, serving their clients from 150 countries with offices in London, Tokyo, New York, Shanghai, Dubai, Moscow, Frankfurt, and other leading international centres of commerce. All Alpari branches are licensed by five regulatory authorities and are members of four stock exchanges. According to the Interfax Centre for Economic Analysis (Interfax-CEA), the company was listed as Russia's largest Forex broker, both in terms of the number of clients and trading volume, in both 2011 and 2012. Alpari's trading volume in Russia and the CIS exceeded $1.2 trillion in the first 9 months. Thanks to its unblemished reputation, customer centricity, and innovative approach to business development, Alpari has come to earn leading positions not only in Russia and the CIS countries, but worldwide.