Moscow Region Governor Andrei Vorobyov Pays Working Visit to Sheremetyevo International Airport and Aeroexpress Terminal
Dec 19, 2013
Moscow Region authorities are interested in further developing Aeroexpress passenger transportation services and will support the construction of new lines from Belorussky Rail Terminal.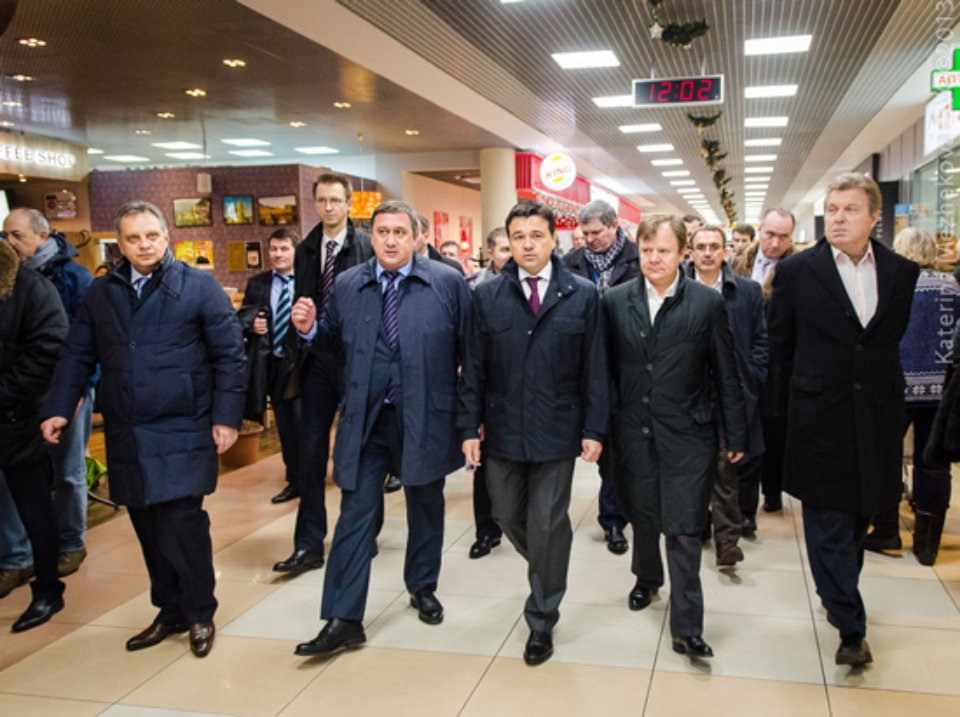 During his visit to Sheremetyevo Airport, Andrei Vorobyov also inspected the Aeroexpress rail terminal. "It's very convenient to use Aeroexpress trains. As mentioned during today's presentation, up to 30% of passengers take advantage of Aeroexpress services. We are interested in further development and will support the initiative to construct the third and fourth rail tracks from Belorussky Rail Terminal. This project should definitely be implemented," noted Andrei Vorobyov. The governor emphasized that, currently, the airport provides services to 30 million passengers per year. In the near future, passenger traffic is expected to reach 60 million people.
According to Mikhail Vasilenko, CEO of Sheremetyevo Airport, the project will be implemented by 2017 when agreed upon by Aeroexpress, regional authorities, and the Ministry of Transport of the Russian Federation. Moscow area authorities are also implementing another project for constructing overpasses on the Savyolovskoye route, which is also served by Aeroexpress trains. This will make it possible to increase the frequency of Aeroexpress services and will make it easier for automobile drivers.
"All efforts by Aeroexpress aim to best meet the needs of passengers and make their trip fast and comfortable. We are preparing to achieve the planned growth of passenger traffic at Sheremetyevo airport and a proportional increase in the number of Aeroexpress passengers in advance," said Alexey Krivoruchko, CEO of Aeroexpress.
The first Aeroexpress train departs from Sheremetyevo Airport to Belorussky Rail Terminal at 05.00 in the morning, and the last train departs at 00:30. Regarding the opposite direction, the first Aeroexpress train departs from Belorussky Rail Terminal to Sheremetyevo Airport at 05.30 in the morning, and the last train departs at 00:30. Total travel time is 35 min. There are 76 daily runs in both directions along the route connecting Belorussky Rail Terminal and Sheremetyevo Airport. Comfortable express trains services follow every 30 minutes.