Aeroexpress Recognized For Social Responsibility
Jun 13, 2013
13 June 2013, Moscow - Aeroexpress has been certified for its corporate activities' compliance with the requirements of ISO 26000:2010 international standard, Guidance on Social Responsibility. The certificate was issued by the Russian National Association of Rail Transport Employers.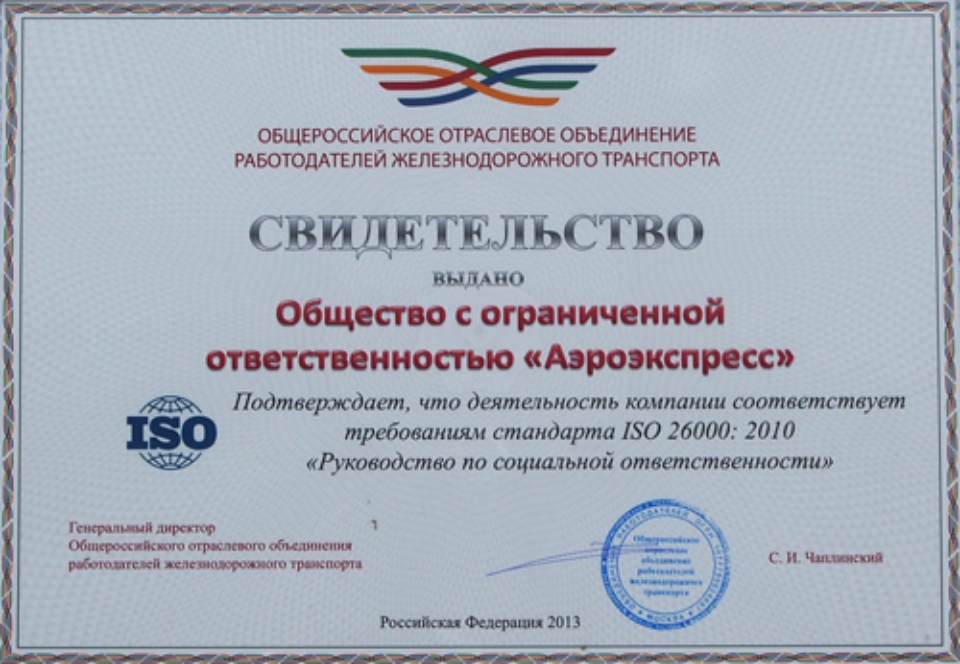 Aeroexpress is actively involved in improving social conditions and environmental protection by addressing major social issues such as establishing modern metropolitan transport infrastructure, reducing traffic congestion on the main highways, and improving the ecological situation. In it is activities, Aeroexpress respects physically challenged people's interests and equips all its terminals and train cars with everything required to ensure their comfort while travelling. In addition to special seats and toilets for wheelchair users – both aboard trains and at the company's terminals – all Aeroexpress ticket offices are equipped with special intercom systems, enabling hearing impaired people to control the volume. Aeroexpress offers free Personal Assistant services to physically challenged persons, including the provision of a comprehensive service for wheelchair passengers.
"Aeroexpress has always strived to achieve and maintain its status as a modern highly effective and socially responsible company. The certificate is a strong impulse to make even more efforts to implement socially important projects. For example, this year we became sponsors of the Dedovsk special boarding school and now intend to do our best to support these children beneficiaries with respect to social adaptation," comments Nadezhda Dorzhieva, Press Secretary of Aeroexpress.
The ISO 26000 international standard has been valid since 2010 and provides guidance on the principles, main topics and issues underlying social responsibility, as well as the integration of socially responsible behaviour through corporate strategies, systems, practices, and processes. This international standard highlights the importance of improving results and performance. The standard is based on an international consensus between experts representing various stakeholders from over 90 countries and 40 international and regional institutions. Therefore, it promotes the introduction and implementation of best practices related to social responsibility.