Aeroexpress Welcomes its 70 millionth passenger
Oct 17, 2012
On October 17, 2012, Aeroexpress greeted its 70 millionth passenger, Elizaveta Paramonova, who arrived at the Sheremetyevo Airport from Paris and bought a ticket from one of the ticket offices located at the company's terminal.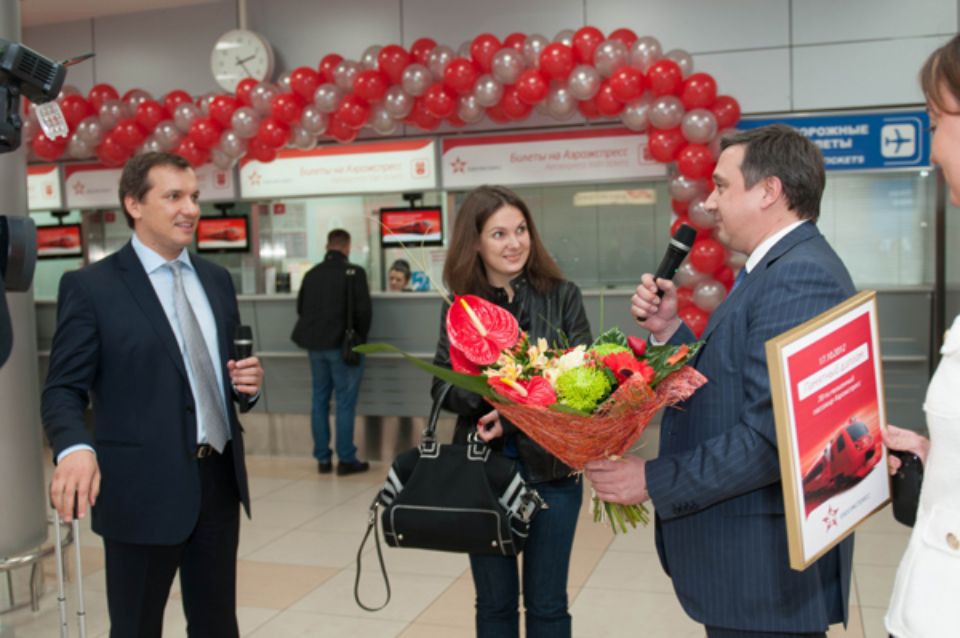 Aeroexpress was formed in 2005 when the first express rail link connected the Savyolovsky Rail Terminal and Lobnya, where passengers could reach Sheremetyevo Airport by bus. Express trains to three Moscow airports – Vnukovo, Domodedovo and Sheremetyevo – were put into service in spring 2008 and, already in August 28, 2008, the company welcomed its millionth passenger.
"70 million passengers in 7 years is a result that allows us to be proud of the work done," stated Alexey Sorokin, Chief Operating Officer at Aeroexpress, who came out to personally congratulate the 70 millionth passenger. "In this period of time, our company has become a Federal Intermodal carrier by opening branches in two regions of Russia this year". In 2011, the annual volume of the rail operator's traffic exceeded 14 million passengers. In the first nine months of 2012, the Aeroexpress company carried 12,577,000 passengers in three Russian cities. In Moscow, a total of 10,865,000 passengers made use of the intermodal carrier's services, including all three airport routes. This figure is 20.2% higher than last year's results for the same period. The volume of passenger traffic in Sochi since the route opened on February 15, 2012, has reached nearly 110,000 passengers, 59% of whom used Aeroexpress services to travel between Sochi and Adler. In Vladivostok, where express communication was launched on July 20, 2012, the red deluxe trains have already carried more than 100,000 passengers.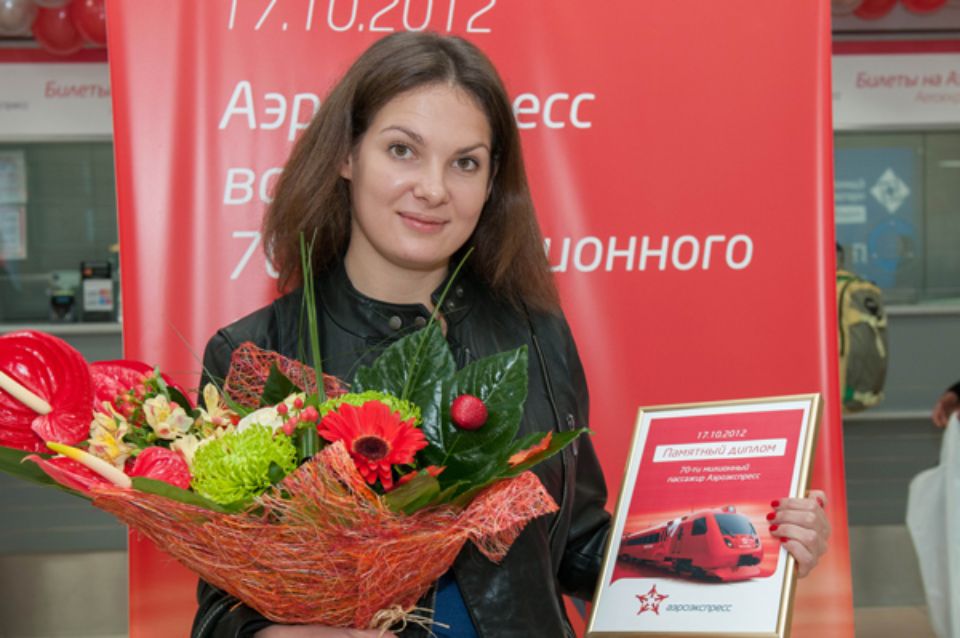 This unprecedented growth in passenger traffic is proof of solid demand for comfortable rail transport services between the city and the airport. The main incontestable competitive advantages of the red deluxe trains are their punctuality and guaranteed travel time.