Aeroexpress Reveals First Sochi Results at Forum 1520
May 30, 2012
On May 30 in Sochi, the VII International Railway Business Forum 'Strategic Partnership 1520' began. Upon arriving at the Forum, the official delegation began by becoming acquainted with the future Olympic capital, by visiting the local railway infrastructure that, in 2014, will provide for the transportation between the different Olympic venues. Not only Russian railroad came to Sochi for this year's Forum, but also industry professionals from neighbouring countries and those further abroad, including India, Australia, Kazakhstan, Mongolia, as well as others. The President of OAO RZhD (Russian Railways), Vladimir Yakunin, headed the delegation.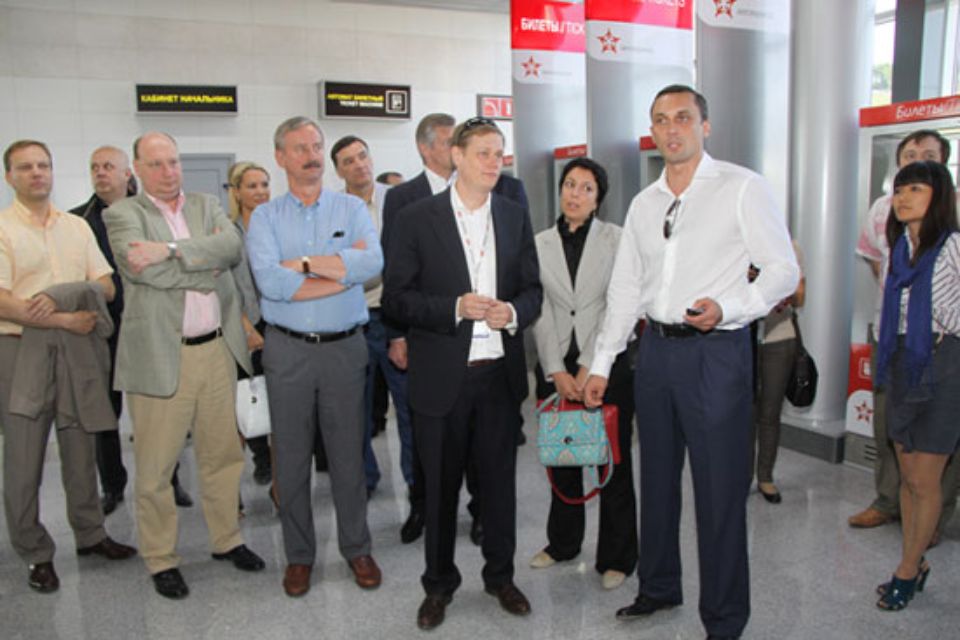 During the inspection of the Olympic facilities, guests of the Forum visited the Sochi Rail Terminal, became acquainted with the construction of a new railway station at the Adler station, and personally had the opportunity to ride the Lastochka (Swallow) train, which will provide rail service in Sochi in 2014. Intermodal connections, organised by Aeroexpress were presented by the company's CEO, Alexey Krivoruchko, who informed participants about the features of the city-airport route at a local resort centre. Alexey Krivoruchko also reported on the first results of transport activities since the beginning of Aeroexpress operation in Sochi. Starting from February 16 of this year, the date that the red premium service trains were commissioned, more than 12,000 passengers have had the opportunity to appreciate the comfort of this mode of transport, including more than 8,000 commuter train passengers, which proves the correctness of the decision to integrate Aeroexpress trains as part of the urban transport system.
For the three days of the Forum, participants will consider the development of rail transport in zone 1520 of the economic and trade union system. Considerable attention will be paid to the issue of levelling out transport activities in the context of the Common Economic Space, the establishment of a unified management system for rolling stock in the Commonwealth of Independent States, and evaluating changes in the structure and volume of rail traffic in light of Russia's entry into the World Trade Organization.